South West Transit Association
More Than $235 Million for New Buses Across SWTA Nation August 16, 2022
Congrats to the 27 recipients of 2022 bus funding!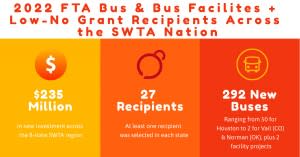 Today, the Federal Transit Administration announced the recipients of Fiscal Year 2022 investment through the Bus & Bus Facility and Low/No-Emissions Vehicles grant programs. Out of a total of $1.66 billion in investment and 1,800 new buses awarded nationwide, transit agencies across the eight-state region of the SWTA Nation accounted for more than $235 million in funding and 292 new buses, along with 2 new transit facility projects. See the list of recipients across the SWTA Nation here.
SWTA will continue to stress the importance of achieving the funding levels authorized in the Bipartisan Infrastructure Law in each year's federal appropriations process.
States
Arizona, Arkansas, Colorado, Kansas, Louisiana, New Mexico, Oklahoma, Texas