South West Transit Association
SWTA NATION BRINGS TOGETHER TRANSIT INDUSTRY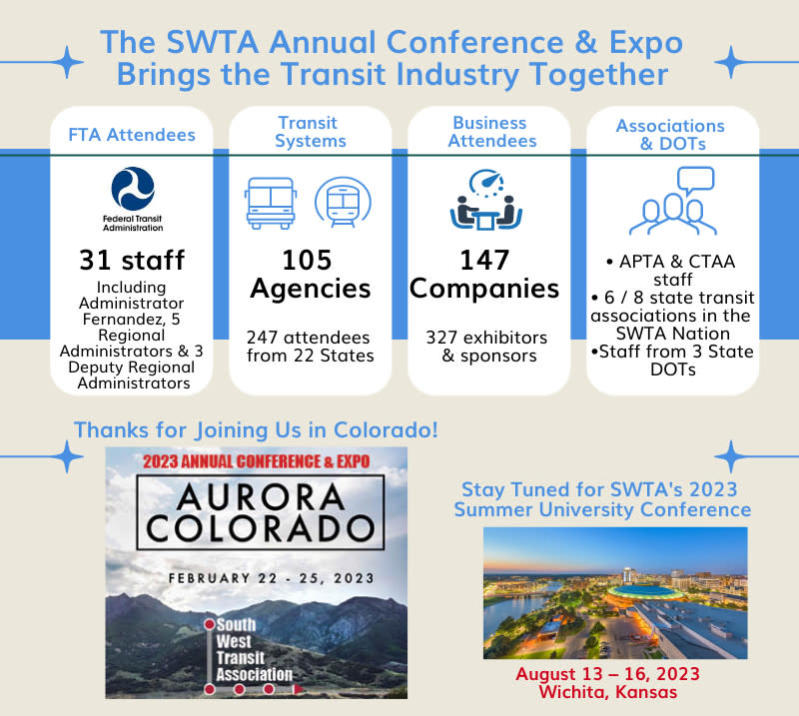 The SWTA Nation brought the transit industry together in Auora, Colorado for the 2023 South West Transit Association (SWTA) Annual Conference. More than 500 transit professionals gathered at the Gaylord Rockies Resort & Convention for four days of education, networking, and a trade show featuring produces & services.

Thirty-one Federal Transit Administration (FTA) staff including Administrator Nuria Fernandez, five Regional Administrators and three Deputy Regional Administrators were in attendance. Fernandez delivered a keynote address focused on funding opportunities and formula funds newly available this fiscal year. Highlighting the FTA's role as a provider of technical assistance to grantees as we focus throughout 2023 on converting the resources provided by the Bipartisan Infrastructure Law into more opportunities for people to travel by transit.

Leaders from six out of the eight state transit associations in the SWTA Nation were also in attendance. Staff from APTA and CTAA attended, along with representatives from the Colorado, New Mexico and Texas Departments of Transportation also joined SWTA Members for the annual conference.
In addition to the roster of transit powerhouses, 105 transit agencies were represented from across 22 states and an additional 147 companies participated as exhibitors, sponsors and attendees. SWTA's mission is to strengthen its member's ability to provide public transportation and mobility services across the region through education, communication, and advocacy.
As a regional transit association that serves eight states throughout the south, including Arizona, Arkansas, Colorado, Kansas, Louisiana, Oklahoma, New Mexico and Texas.

SWTA's Summer University – which focuses on Marketing, Community Mobility, and Transit Law – will be held August 13-16, 2023 in Wichita, Kansas. To find out more information about Summer University or inquire about becoming a SWTA Member, head to www.swta.org for more information.