South West Transit Association
Background: The Transit Impacts of President Biden's American Jobs Plan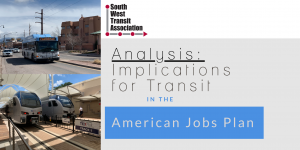 Today, President Biden's Administration released the initial details of its wide-ranging infrastructure proposal, titled the American Jobs Plan. Full background on the initiative is available from The White House.
Overall, the proposed legislation – which will need to be introduced in Congress and navigate the standard legislative process there – is intended to follow the third major federal COVID relief act, the American Rescue Plan, which Congress passed last month, and also work in conjunction with the needed reauthorization of federal surface transportation legislation, currently known as the FAST Act. Exactly how this measure and reauthorization will interact with each other in terms of timeline, details and political support is yet unclear, although Administration officials have noted that new investment outlined in the proposal would be in addition to existing and expanded funding programs through the reauthorization process.
Key for public transit agencies of all sizes is the inclusion of $85 billion in new investment for transit providers. As the initial American Jobs Plan announcement is just a top-level overview of the key provisions, specifics of how new investment included in the legislation would be distributed to the transit industry, such as capital vs operating programs or breakdowns between different sized urban areas or rural communities. No conditions or regulations on the uses of these funds is yet available, either. Additionally, the plan includes $80 billion in new funding for intercity passenger rail – including, but not limited to Amtrak – and other initiatives for electric vehicles, community-based mobility improvements and complete streets programs that may benefit your communities.
SWTA, along with our national-level partners such as APTA, CTAA and The Bus Coalition will be monitoring additional details on this potentially transformative investment in public transit as they emerge. In the meantime, please contact SWTA Executive Director Rich Sampson at [email protected] or 202.415.9666 with any questions, ideas or concerns about this or other legislation in the nation's capital.
States
Arizona, Arkansas, Colorado, Kansas, Louisiana, New Mexico, Oklahoma, Texas