South West Transit Association
Details on Bipartisan Infrastructure Deal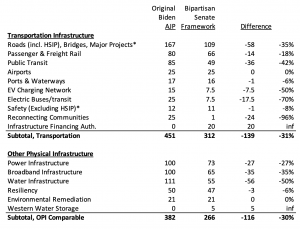 Word emerged yesterday (June 24th) that President Biden and a group of 10 bipartisan Senators reached a tentative agreement on an infrastructure proposal. Among $579 billion in total new investment, $48.5 billion would be channeled through existing federal transit programs, another $7.5 billion to support purchase of electric buses and another $66 billion to intercity (Amtrak) and freight rail programs. See the chart to the right (by The Eno Foundation's Jeff Davis) for a comparison of how the agreement compares with Biden's original infrastructure proposal, and a framework for the agreement released by the White House here.
Of course, the agreement – thus far – is limited to the President and the bipartisan working group. How it fares in both the House & Senate is uncertain, with House Speaker Nancy Pelosi requiring the Senate to vote on both the infrastructure bill and a reconciliation measure to overcome a all-but-certain filibuster by Senate Republicans before the House takes it up. With some opponents of the measure arguing transit may be receiving too much investment following the successive CARES, CRRSA and American Recovery Act over the COVID-19 period, we will be considering the balance of transit funding to ensure transit providers across the SWTA Nation are receiving a fair share.
We'll keep you updated on the latest regarding any infrastructure legislation impacting transit. Meanwhile, the full House of Representatives will take up the INVEST Act (H.R. 3684), which was approved out of the Transportation & Infrastructure Committee earlier this month, including $109 billion for public transit investment. SWTA, APTA & CTAA encourage their members to contact their U.S. representatives in support of the INVEST Act before the expected vote this coming Wednesday (6/30).
States
Arizona, Arkansas, Colorado, Kansas, Louisiana, New Mexico, Oklahoma, Texas
Downloads
Bipartisan Infrastructure Agreement Framework